| | | |
| --- | --- | --- |
| | | It's been 40 years. I count myself profoundly fortunate to have had a career like this. I always wanted to be an illustrator. The fine art world didn't hold much appeal to me when I started out. It is about the challenge and finding a visual solution that works. You have the idea, I can help you see it. I am looking for long-term relationships, rather than one job stands. I want to know how you think. I want you to know how I think. I can turn your ideas into realistic comps (comprehensive studies) and, if it requires illustration, go all the way to the finished project; a one-stop shop. Give me a call and let me know what I can do for you. |
CD Covers and Graphics

The illustration muse for me came from many sources. The strongest of those sources was record album covers. Early on, I spent hours on end in record stores poring over the juicy art on those big, fat 12" X 12" slabs. That was my dream- to become one of the great album cover artists. About the time I'm thinking that just might happen, technology stepped in. The compact disc had arrived. 12" X 12" was now closer to 4" X 4"- just 1/9 of the area it used to be. Nevertheless, I have been lucky enough to get a few of those and have enjoyed working with the musical artists I've met.

Furthermore, I am given liberties to work on the graphics (liner notes and such), and I always look forward to that challenge.
---
Greeting Cards
I've been lucky enough to illustrate greeting cards for several greeting card companies. My favorite greeting card company was Paper Moon Graphics. I worked with them from the early 80's to early 90's. I remember that before there were fax machines, art director Robert Fitch would send his rough sketches via Federal Express. I remember one of the sketches was drawn on a cocktail napkin. Kind of answered the question as to where he was and what he was doing when he came up with that idea.
---
Posters
I've done numerous posters over the years for advertising, editorial, and for pure decoration. But the posters shown here for the Kansas City Blues and Jazz Festival have always been my favorite.

Till the mid nineties, I had done several posters for the Kansas City Spirit Festival. When my friend, Greg Patterson, left Spirit to head the Kansas City Blues and Jazz Festival, we came up with an idea to do a series of posters in honor of the "Living Legends of Kansas City Blues and Jazz". Each year, we picked someone, whose lifelong efforts reflected that. The proceeds from the sales of the posters went to local charities that fostered musical education in the city and surrounding area.

The most fun I had was listening to the stories of these remarkable people, while I sketched and photographed them for the posters.

Sadly, the festival closed, due to lack of financial support. There are a host of other such people in K.C. that I would have also loved to have had the opportunity to listen to their stories.

---
Lettering

I have always had an appreciation for great lettering and typography. As a kid, I would study lettering that I had seen in magazines and try to duplicate it. I went to work at a sign shop while I was attending college and learned a lot about the basics of lettering.

I really felt I couldn't rely on billing myself as a lettering artist, so I didn't market myself for that. Nonetheless, I was always happy when a lettering job did come my way.
---
Editorial
Illustration for books, magazines and, included in the mix, illustrations that have embellished products such as school notebooks. Editorial work usually meant I was given freer reign and allowed me to cut loose with my imagination. I love doing editorial work.
---
Advertising
The biggest for last. Advertising is where I spent most of my illustration work in the last 40 years. I have done a TON of it. In fact, I have decided, rather than cull the deep archives to show it all here, I would rather just show a few selections from the last few years. If this isn't enough, please contact me and I will gladly show you more. I believe I have illustrated almost EVERYTHING in the last 40 years. Whatever it is you have in mind, I am quite certain I can handle it for you.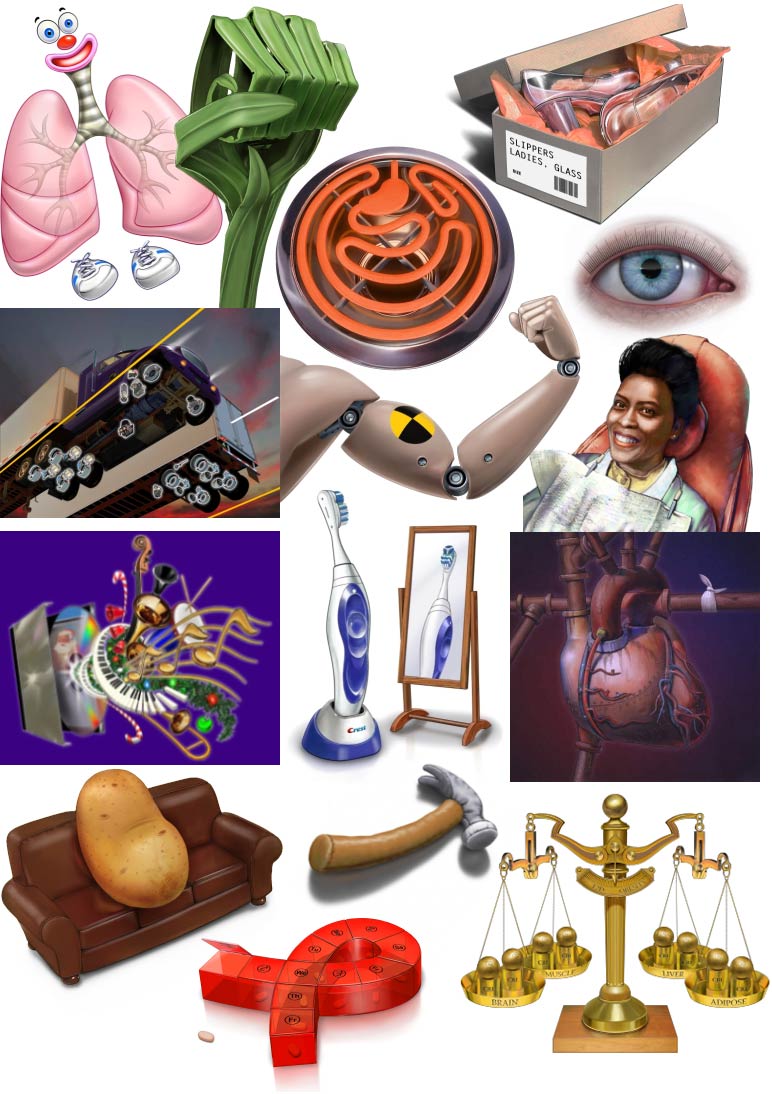 ---